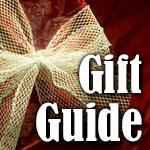 Home for the Holidays Gift Guide 2012
It's beginning to look a lot like...

Yeah, yeah. Blah, blah. It's the most wonderful time of the year - but not for those of us running hither and yon in a mad dash to make sure that everyone on our holiday lists is happy and gay.

If you're looking for gifts that might last a little longer than a bottle of bubby, then you could do worse than peruse some of the selections from this year's "Home for the Holidays" gift guide.

For those who love to linger at home in front of a cozy fire (or stay buried in bed all winter long), here are some gifts that might provide a bit of solace and warmth during the long winter nights.

After all, most of us dream a little dream of some place beyond our realm of comfort.

____________________________________________________________________________
Glitterati: "Tattoos Hornets Fire"
Some people just can't get enough of Lisbeth Salander, the girl with the dragon tattoo. The heroine of Stieg Larsson's "Millennium Trilogy" has become a one-person cottage industry for Swedish tourism as evidenced by the crowds of aficionados lining up for the "Millennium Trilogy" tours.

For those diehard fans and armchair travelers, Glitterati has published "Tattoos Hornets Fire," a stunning photographic homage to Larsson's hometown that affords viewers a gumshoe's perspective on the city of hornets, fire, and tattoos.

Photographers Christopher Makos (a protegé of Man Ray and a member of Andy Warhol's inner circle) and Paul Solberg, who work collectively as The Hilton Brothers, have created a mesmerizing mise en scène that evocatively complements Larsson's sense of place while showcasing the darker side of Stockholm's storied beauty.

Published in collaboration with VisitSweden, the Swedish tourist board, "Tattoos Hornets Fire" features 300, four-color photographs, as well as text by Elizabeth Daude, one of Stockholm's most acclaimed tour guides. Daude, who's been described as a "Hitchcock blonde dressed in black," provides incisive commentary and insider history to accompany The Hilton Brothers' luminous photographs.

Designated one of the "Top Ten Travel Books of 2012" by Publishers Weekly, "Tattoos Hornets Fire" would marry nicely with a first-class ticket to Stockholm on SAS Airlines - but even without the air tickets, "Tattoos Hornets Fire" makes a beautiful gift for the Scandinavian lover in your life.

PRICE: $50.00 / 160 pages
LINK: "Tattoos Hornets Fire"

____________________________________________________________________________
Aleksandr Kargaltsev: "Asylum"
One of the year's most compelling (and visually arresting) photography exhibitions of 2012 was Aleksander Kargaltsev's project "Asylum," which explored the lives of gay men who fled Russia for the United States because of the violence and hatred they have encountered in their motherland.

Photographed around the city of New York, the nude youths are poignant reminders of the dire situation of the LGBT community in Russia (and other countries around the world). The subjects' nakedness serves as a metaphor for courage and the shedding of fear in the young men's pursuit of individual freedom and personal liberty.

Signed by the author, the 56-page photo book is flexi-bound, with text by Stephen Rae and Ivan Savvine. Shipping is free - around the world.

PRICE: $49.00
LINK: Aleksandr Kargaltsev "Asylum"

____________________________________________________________________________
Molton Brown: Myrrh Muske & Cypress Candela
The first three Christmas gifts came from the magi: frankincense, gold - and myrrh. Of course you knew that, if only from singing Christmas carols door to door with your hopelessly sentimental family.

You can still sing the lyrics, but maybe you've forgotten that myrrh is one of the most aromatic fragrances of the season. A natural blend of an essential oil and a resin, myrrh is redolent of leather and earth, with a sweet smoky note that evokes incense.

Molton Brown's Limited Edition Myrrh Muske & Cypress collection captures the seductive opulence of the coveted resin that was worth its weight in gold in ancient Persia. The single-wick candle is blended with top notes of cardamom, cypress, and ginger. Heart notes of cedarwood warm the atmosphere before settling into base notes of black pepper, gaiac wood, moss, and patchouli.

Packaged in an elegant Molton Brown gift box, the Myrrh Muske & Cypress Candela is presented in a heavy frosted glass vessel.

Beautiful enough for the "King of Kings" in your life.

PRICE: $49.00 / 6.3 oz.
LINK: Molton Brown Myrrh Muske & Cypress Candela

____________________________________________________________________________
Victor Haim Photography
Art is life - and how wonderful it is when the art in one's home reflects the philosophy by which one lives.

During Hurricane Sandy, New York's Ali Forney Center was completely destroyed, leaving thousands of vulnerable LGBT youth without shelter.

Photographer Victor Haim is donating 50% of the proceeds from all of his sales in December to Ali Forney Center, the unfunded support network for homeless or displaced LGBT youth in New York City.

A piece entitled "Smoke Signs" is particularly timely, evoking the damage sustained by Hurricane Sandy, while also connoting the phoenix rising anew.

Priced according to their size, Haim's images are powerful metaphors of the strength within the LGBT community.

PRICE: $80 - $500, based on size and frame
LINK: Victor Haim
Ali Forney Center

____________________________________________________________________________

(Gift Guide continues on following page...)
Comments on Facebook